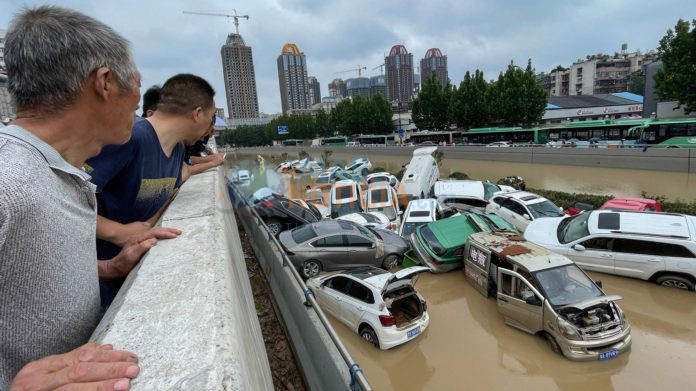 E yobidanan inmenso di e ultimo tres dianan den e area central di China, a laga ya caba 25 morto, shete persona perdi y miles di persona cu a sufri daño.
Cantidad di hende a keda atrapa cu awa yegando ten a nan pecho, y wagonnan di trein inunda.
Masha poco hende a pensa cu e awa lo cay asna fuerte, pero na momento cu a cuminsa mira e imagenan cu ta circula di Zhengzhou, e capital di Henan, riba rednan social, a cuminsa bati alarma.
A registra den e ciudad yobidanan torencial, desde diasabra, pero den oranan di atardi el a yega na un pico di 201,9 liter di awa pa meter cuadra, algo cu no a yega di registra te e momento ey na Zhengzhou, di shete miyon di habitante, ni den henter China.
For di diadomingo, e yobida na Henan a registra un averahe di 445 mm, y diamars den e capital a ega entre 500 y 657 mm, segun Observatorio Meteorologico Central.
E imagennan cu ta circula ta mustra awa lastrando autonan, inundando cayanan y tunnel completamente yen. Metro tabata e unico medio di transporte public disponibel, ya cu autobusnan, cu ta di coriente, a wordo para.
Wagonnan inunda, unda cu ciudadanonan di estatura chikito mester a para riba e asientonan pa evita di hoga.
Mas di 500 persona a wordo evacua di metro di Zhengzhou, di cualnan 12 a muri y cinco a resulta herida, segun informe di Gobierno local.
Decenas de vehículos arrastrados por el agua en Zhengzhou. Las pérdidas económicas son muy elevadas. Hay unas 145.000 personas afectadas, pero se desconoce aún el número de muertos. pic.twitter.com/ngldtWLXYb

— Zigor Aldama 齐戈 (@zigoraldama) July 20, 2021
Aunke cu mayoria di esnan atrapa a wordo rescata door di e Bomberonan, y por a mira imagennan di hendenan – hende muhe y mucha, huyendo for di rand di un tunnel, entre riunan di awa cu tabata inunda e cayanan por completo.
📹Torrenciales aguaceros inundaron varias zonas del centro de 🇨🇳 #China; entre ellas, la ciudad de Zhengzhou, donde el metro tuvo que suspender su servicio. Mira el video de @TheInsiderPaper pic.twitter.com/Gb0o2WQrjQ

— Servicio de Información Pública (@infopublicave) July 20, 2021
Otro videonan ta mustra operacionnan di rescate complica den e cayanan, manera esun di un muhe cu a wordo rescata ora cu awa tabata lastr'e.
Segun ultimo informacion, mas cu 1,24 miyon di persona a wordo afecta, entre nan 36.000 gravemente, y 160.000 mester a wordo evacua of hiba otro caminda, segun Gobierno local.
Varios hospital di e capital a keda sin coriente debido na e inundacionnan, loke a complica atencion di e heridonan.
Medionan local a conta casi 600 herido grave, cu mester a traslada nan pa otro centronan medico di e provincial of di e ciudad cu no a perde suministra di coriente.
Comments
comments