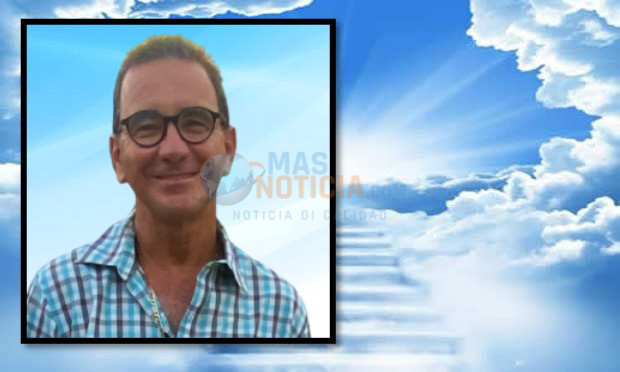 Aurora Funeral Home ta anuncia: Fayecimento di Sr. Jose de Nascimento da Silva
"Na paz lo mi bai drumi y pega soño,
Pasobra ta Abo so, O SEÑOR,
Ta hasimi biba den siguridad."
Salmo: 4
Cu inmenso tristeza na nos curason, pero conforme cu boluntad di Dios.
Famia da Silva-de Cuba ta anuncia cu a bai sosega den brasa di Señor,
Mi Esposo, nos Tata, Welo, Ruman, Omo:
Sr. Jose de Nascimento da Silva
Mihor conoci como: "Palo Jo" of "Jo"
*5 Augustus 1958 – †1 Mei 2021
Na nomber di su
Mama: † Maria Encarnação d.N. da Silva
Tata: † Manuel Freitas da Silva
Tia stima: † Agusta Freitas da Silva
Esposa : Marisca da Silva-de Cuba
Su Yiunan: Joël y Stephany da Silva-Laclé
Jomar y Luz-Mary da Silva-Willems
Joffrey da Silva
Su Nietonan: Jaymar da Silva
Sophia da Silva
Aliyah da Silva
Jada da Silva
Su rumannan : Manuel da Silva y Rosa Leal
Mariazinha y Ernesto Marin-da Silva
Mario da Silva
Su subrinonan : Shohaira y Gary Barnes-da Silva y famia
Mariëll da Silva y Ilán Lopez
Emmanuel Marin y Kimberly Ras y famia
Michella Marin y Ernand Goeloe
Shanty da Silva
Jonathan da Silva na U.S.A.
Tantanan : Maria Ascenção da Silva na Madeira
Maria da Conceição Nascimento da Silva na Madeira
Su suegro y suegra: †Adelberto y † Theresita de Cuba-Giel
Su swa y cuñanan: Ruben de Cuba y famia
Lourdes de Cuba y famia
Erline de Cuba y famia
†Misella Croes-de Cuba y famia
Nelson de Cuba
†Jasintho de Cuba y famia
Vda. Maria Luydens-de Cuba y famia
Su madrina y padrino, primo y primanan, ihanan, comer y compernan, su amigo y amiganan di Manuelito's Sportsbar, su colega y amigonan di taxi, su compañeronan den mundo di coremento di distancia.
Demas Famianan : da Silva; de Cuba; Freitas; de Nascimento; Agrela; Laclé; Willems; do Nascimento; Ascenção; da Conceição; Marin; Barnes; Adamus; Oduber; Croes; Kelly; Giel; Boekhoudt; Luydens; Henriquez; Daké; de la Rosa; del Rosario; Fijnje; Vrolijk, v/d Biezen; Jacopucci; Geerman; Perez; Ruiz; Fernandes Orfão; Kanhai; Capello; Serrão-da Silva y demas famia na Aruba, Madeira, Zuid-Africa, Inglaterra, Venezuela, Spaña, U.S.A y Brazil.
Nos ta invita tur amigo/a, bisiña, y conocirnan pa asisti na e acto di entiero cual lo tuma lugar dia 7 di Mei 2021 di 2'or pa 4'or di atardi den misa St. Anna na Noord, despues saliendo pa santana Catolico na Noord.
Nos ta pidi disculpa si den nos tristeza nos por a lubida di menciona algun famia of conocir.
Nos ta lamenta cu despues di entiero nos no por ricibi bishita di condolencia na cas.
Enbes di krans of flor por haci un donacion na Edmond Harms foundation, lo tin un box disponibel den misa.
Pa motibo di e situacion actual cumpliendo cu reglanan stipula door di DVG, nos ta pidi pa mantene distancia social, no ta duna man ni brasa y uso di tapaboca ta obligatorio.
Comments
comments